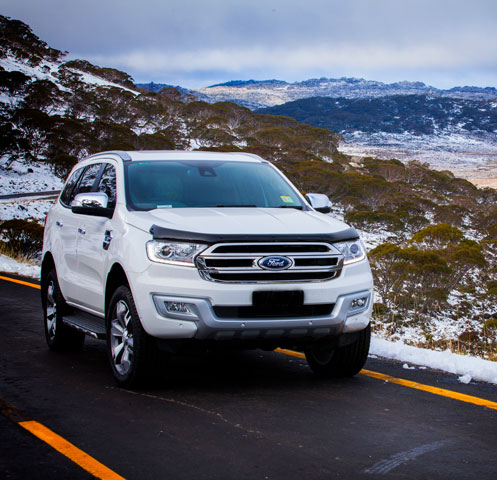 * Are you worried about having to hire and fit chains or driving up the mountain in hazardous Wintery road conditions?
* Did you know that there is very limited overnight parking in Perisher & Smiggin Holes.
* Want to save some dollars without the hassle of dragging all your luggage and gear on & off the Ski Tube or getting the bus?
* Are you planning to drive your own vehicle or a hire car to the ski fields in the Snow Mountains during Winter?
* Planning on staying in accommodation in Thredbo Village, Perisher Valley, Smiggin Holes, Guthega Village or Charlotte Pass?
If the answer to any of these questions is YES! Snowlink has the solution with our Park & Ride Private Transfer Service.
– We can arrange to meet you at a pre-arranged time and also recommend place to park where you can leave your vehicle in untimed parking spots around central Jindabyne whilst you are on snow.
– We will then load you and all your luggage and gear into one of our vehicles and deliver you to the front door of your accommodation in Thredbo Village. 
– If the road is closed or inaccessible to your accommodation in Perisher Valley we will help you unload your luggage and assist getting you to the desk for Hans over snow connections or arrange to meet your Lodge transport in the Perisher turning circle parking area.
– If your accommodation is in Guthega, we will get you there safely in almost any conditions in our 4wd.
– Families staying in Charlotte Pass during Winter that have pre booked over snow transfers to or from the resort, we will transport you up to Perisher and assist to the service desk in the ski tube terminal in good time. For the return we will meet you in the carpark next to the terminal, making your travel to Charlotte Pass quick and easy.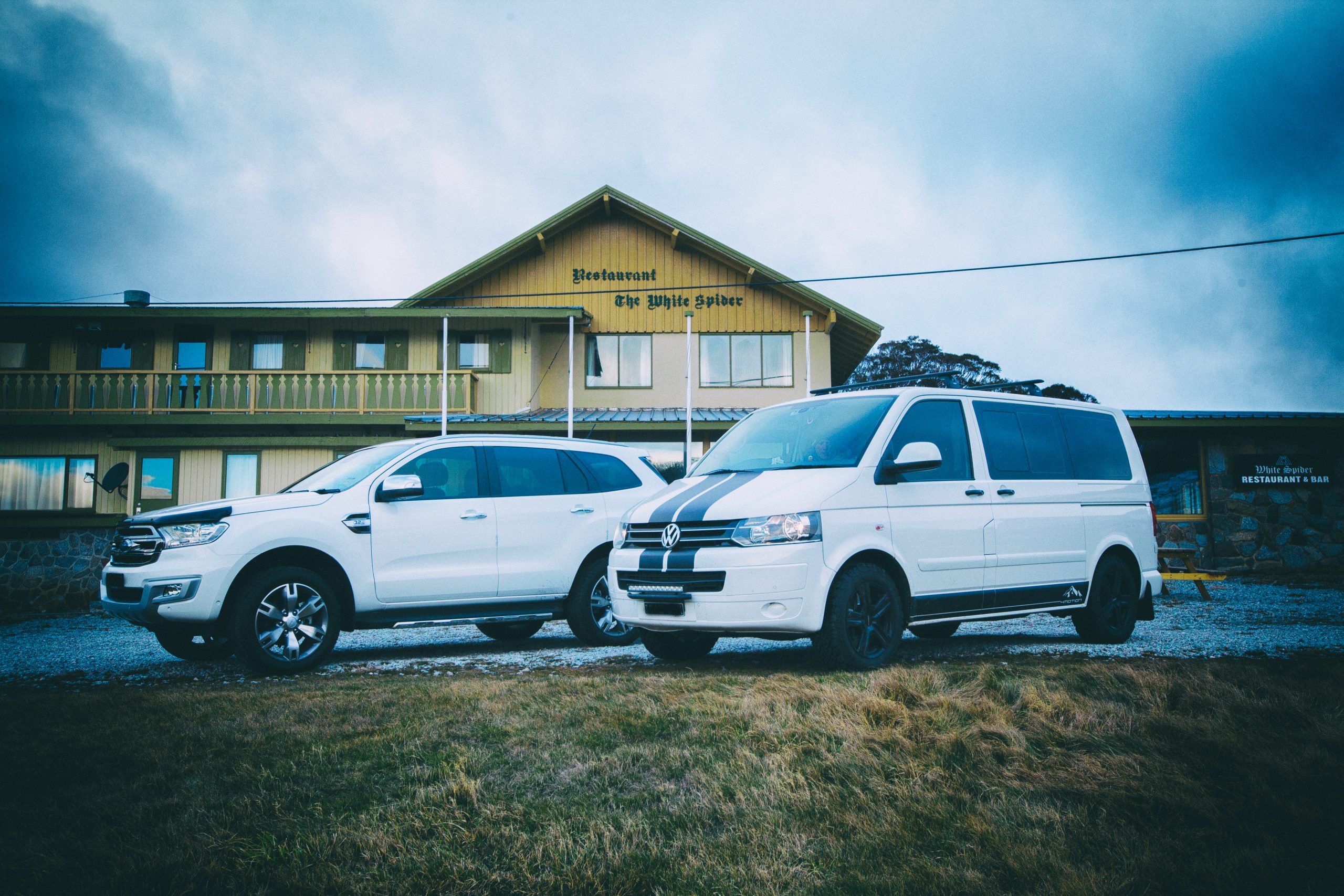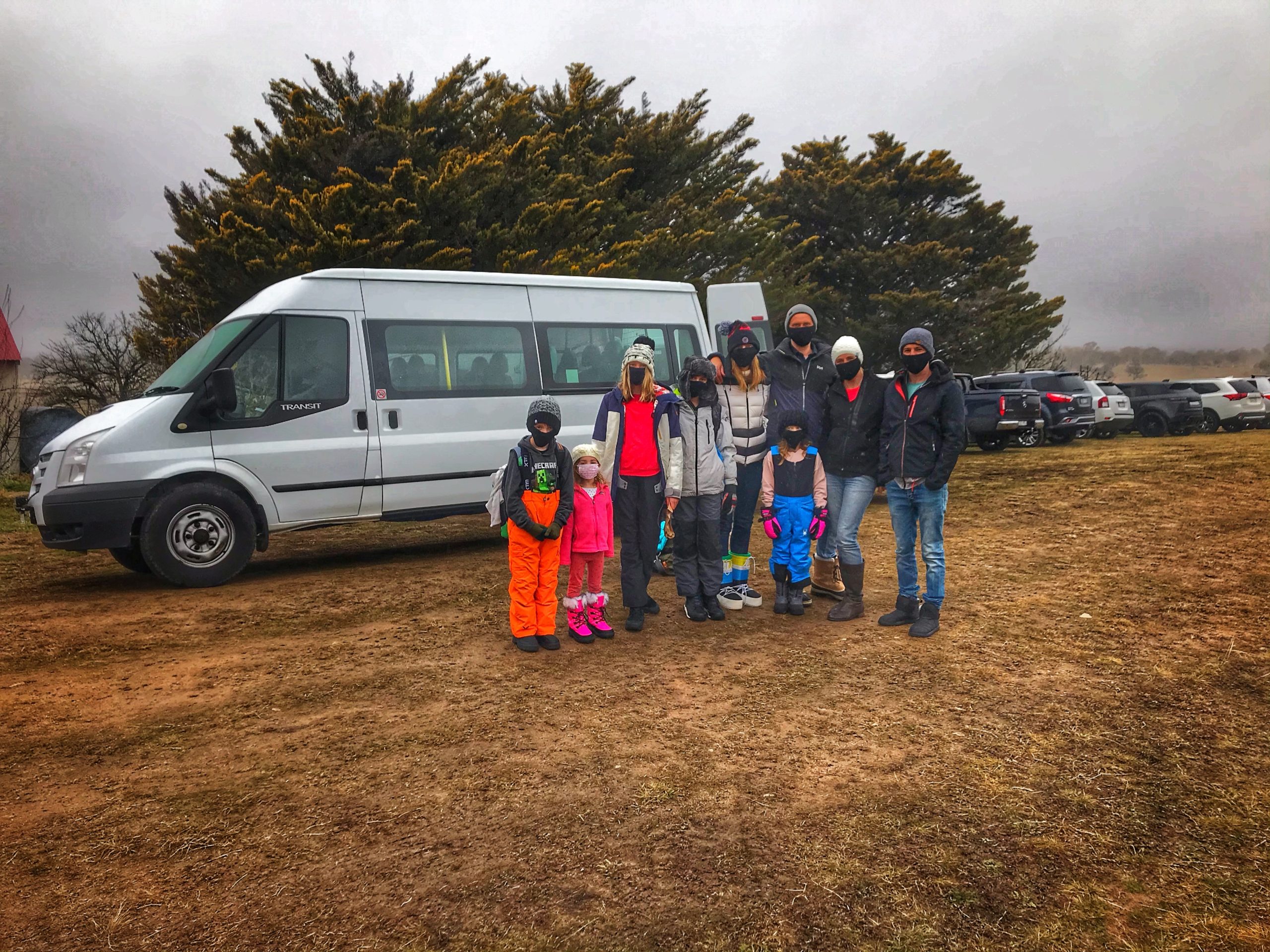 We are available 7 days per week during winter and we can assist for those making early morning Charlotte Pass connections or late afternoon arrivals/departures. So take out the hassle of hiring and fitting chains and driving in dangerous snow and ice conditions or just save some dollars with greater flexibility then the ski tube.
At the end of your holiday we will collect you and return you directly back to your car parked in Jindabyne.
We can accommodate transfers for individuals, families and small groups of up to 11 passengers per mini bus with a trailer for luggage. Children seats available.
If you are looking for a parking solution during winter, call Snowlink.
Jindabyne Park & Ride to Perisher from $165 inc Gst
Jindabyne Park & Ride to Smiggin Holes from $165 inc Gst
Jindabyne Park & Ride to Thredbo from $165 inc Gst
Jindabyne Park & Ride to Guthega from $220 inc Gst
Prices are based on 1-3 passengers traveling between 8am to 4.30pm.
Add $33 per additional passenger each way 4-11 passengers.
Surcharge will apply outside standard operating hours.
Excludes National Park entry of $11.45 per adult & $3.60 per child
Prices are subject to seasonal changes and availability.
For a tailored quote and to check on our availability please call us on 0438 385 961 or email us with your details to info@snowlinkshuttle.com.au
I'm interested in the Snowlink Park & Ride Option, how does it operate?
– During Winter we offer Park & Ride option from Jindabyne & the Snowy Mountains Ski Resorts.
-Customer drives their own vehicles to Public Parking in Jindabyne, we can suggest where to park. our location and park.
– We do not drive your vehicle.
– A Snowlink representative will meet you at a pre-arranged time. We load your ski gear into one of our suitable vehicles & drive you up to your accommodation (or as close too). On return we will collect you at a prearranged time and return you all safely to your vehicles.
– It's really that simple & easy, less fuss and often cheaper then using the Ski Tube for Perisher, Charlotte Pass and Smiggin Holes, plus easier than trying to find a park in some cases at Thredbo.
– All our professional drivers are well experienced in driving in Alpine Conditions during the Winter Months so no need to worry about snow & ice on the roads. Just sit back, relax & enjoy the start and end of your Winter Adventure.
Where would I need to go for the Snowlink Park & Ride Service and what times are available?
We provide this service all year for guests staying in Charlotte Pass, Perisher, Smiggin's or Thredbo. Additionally, if you are planning a long hiking tour in Kosciuszko National Park and require point to point transport, you're welcome to leave your vehicle with us for the duration.
– The  parking service is available 7 days a week between 7.30am to 5pm or after hours.
– We allocate an agreed time that suits your travel to the Snowy Mountains.
What is the cost of Snowlink Parking service?
– We offer our service to/from Jindabyne  from *$135 + Gst each way to Thredbo or Perisher ski resorts PLUS the appropriate National Park Winter Passenger entry fees.
– For a family of 3 or more this is equivalent to a ski tube trip without the luggage restrictions. 
* Price is subject to change, depending on the time of travel & passenger numbers etc.
How do I make a booking request and pay for a Snowlink Parking Service?
– We accept bookings for our  parking service up to 30 days prior to travel for bookings from 1-11 passengers.
– To make a booking we will require a request in writing confirming all your details, dates, passengers, requested destinations & any additional special requirements/stops? Once received if we are available and you accept our quote, we will issue you with a Snowlink Booking Confirmation invoice. Once you receive our confirmation and everything is checked & agreed we will require a 20% deposit to be received before your booking can be reserved. The final balance in full will be required usually up to 14 days before travel with us, a receipt & tax invoice will be issued. Changes or amendments may not be available after confirmation so please check details before booking. We will always try to accommodate our passenger's requests & be as flexible as possible.
– Once your booking is confirmed we accept payments via Visa & Mastercard (Not Amex), you will need to call us on 0438 385 961 to process at least the deposit to reserve the booking on a credit card (card fees apply). We also accept payment via direct deposit into our bank account if paying in full at least 3 days prior to travel. Pal pay may also available on request for international bookings. If your booking request is immediate or within 24 hours of travel you may be able to pay the driver upon collection by agreement. * We do not carry large amounts of change so exact fare is usually required if paying on collection. A receipt or tax invoice will be issued.
– Please feel free to call us any time on 0438 385 961 if you have any questions at all or for further clarification. Alternatively you can email your enquiry to info@snowlinkshuttle.com.au and we'll get back to you as soon as possible.
How do I cancel or amend a booking for a Snowlink Parking Service?
Once we have issued a customer with a confirmation a vehicle & driver has been reserved for your booking as per your request. 
We  appreciate that circumstances & situations can & do change therefore we are more than happy to refund or change a  transfer booking when requested to do so in writing from the passenger on the confirmation 14 days in advance.
– All Cancellation/Amendment requests must be received via email to info@snowlinkshuttle.com.au If your booking is within 48 hours of travel there will be NO refund/amendment available so please be sure before you book with us.
Please refer to our Terms & Conditions page for refund policy.
We always recommend that you take out adequate travel insurance to cover cancellation costs due to unforeseen situations.