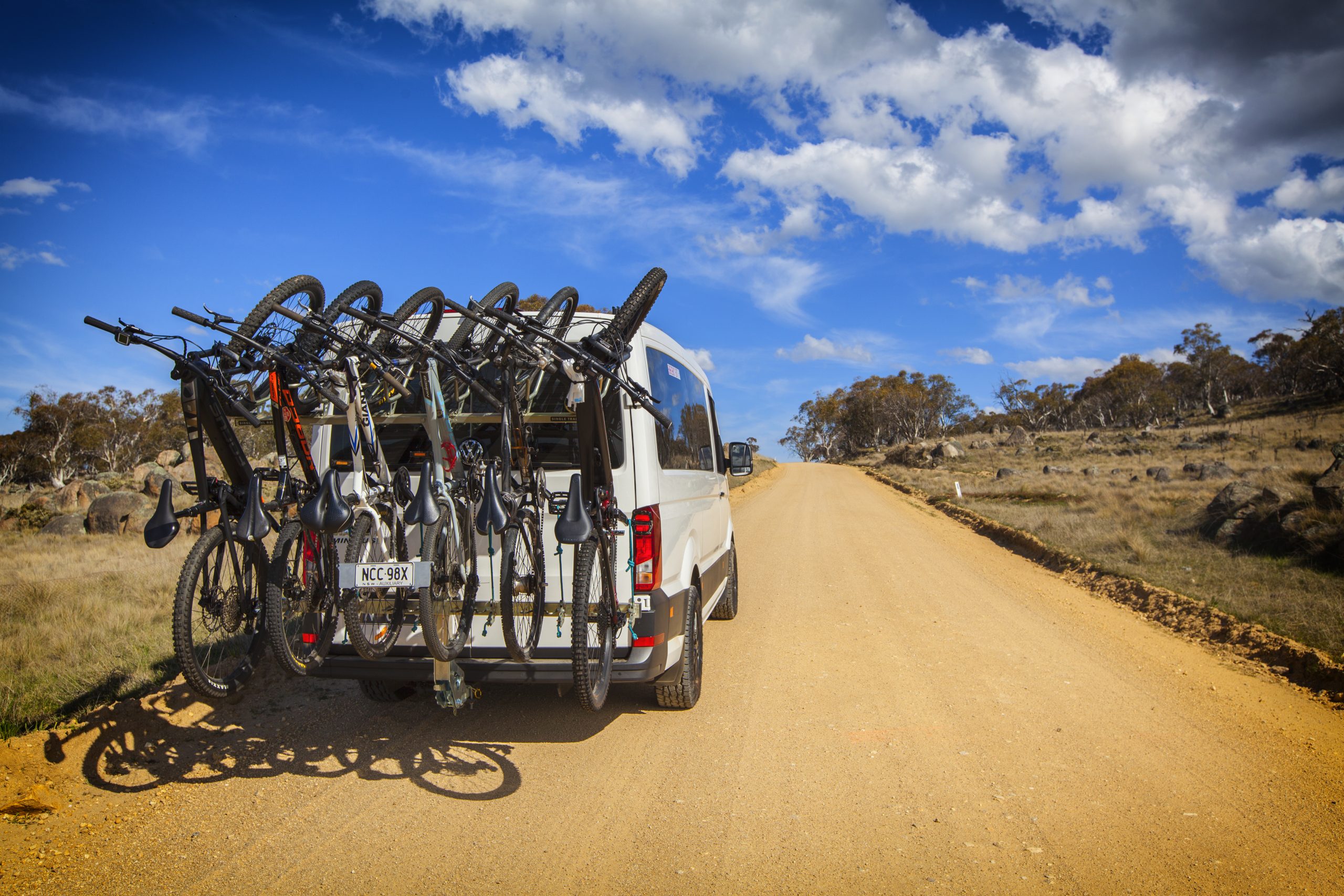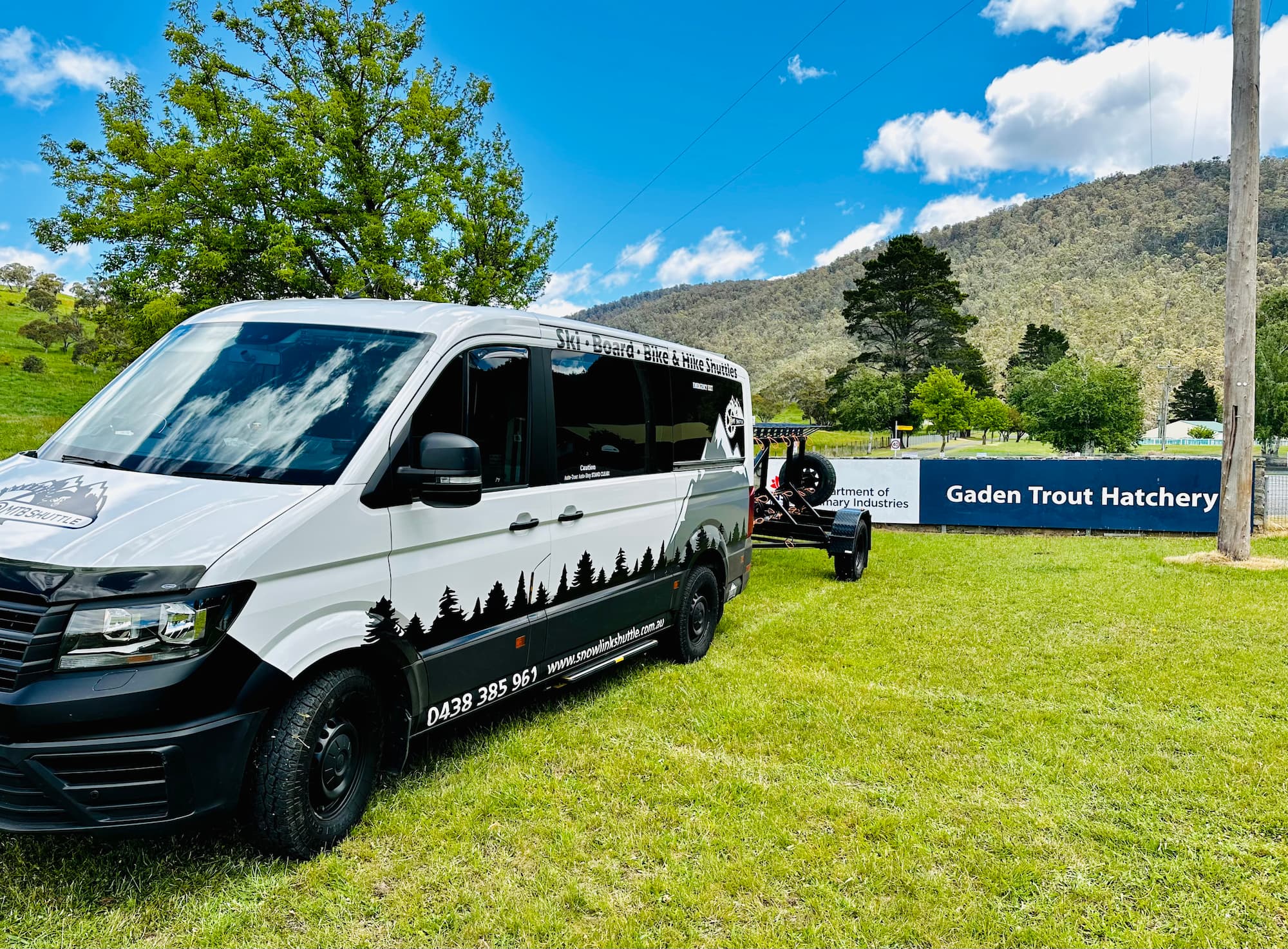 Jindabyne MTB (Mountain Bike) is owned & operated by Snowlink Shuttle. Our MTB Shuttle was established in 2018 to service & support the growing MTB community in Jindabyne, Thredbo, and the beautiful Snowy Mountains region.
With the opening in October 2019 of the lower section of the Thredbo Valley Track (also known as the TVT) extension from Lake Crackenback Resort to the Gaden Trout Hatchery (18.4 kms) we were the first to see an opportunity to provide riders with a MTB Shuttle between Jindabyne,  Gaden Trout Hatchery and Lake Crackenback Resort to Thredbo Alpine Village.
From November to May we provide transfers for all Mountain, Gravel and  E-Bike shuttles between Jindabyne Town Centre, Gaden Trout Hatchery, Lake Crackenback Resort and Thredbo village providing a reliable service for riders accessing the TVT Thredbo Valley Track. For younger riders we can also pick up from the Diggings & Ngarigo campgrounds on request.
During peak times we offer a regular schedule, or we can pick up on request. Private group bookings are also available to pre book by arrangement. We take the best care possible of your asset whilst loading/unloading and in transit in our purpose-built carriers. Please advise us in advance if you are using E-bikes as weight and load restrictions may apply.
On weekends & holidays 1 x morning shuttle between 8am-9am will be available subject to demand from specific locations in Jindabyne or the Gaden

Trout

Hatchery heading up to Thredbo village for those riding the full

TVT

track, if you only want to ride the top section

, we can also pick up from Ski Tube carpark D on route. An early afternoon shuttle will also available from Lake Crackenback/Ski Tube carpark D back up to Thredbo village between 2pm-3pm.

For those staying in Thredbo and riding down we offer 1x afternoon

UP

shuttle from the Trout Hatchery or Jindabyne via Ski Tube between 2pm-3pm. We require a minimum of at least 4-5 riders to schdule any shuttles.

Times are subject to change and availability maybe limited so please call us in advance to book & pre pay.

Private group booking are available by request at a time that suits you between 1-11 Riders.

Pre-payment is required for a confirmation or call us on the day for our availability from your requested pick-up location for next availabilty and cost.

We

operate

7 days a week between 8am to 5pm for bike shuttles during Summer November to April.

Alternatively get a group together and book a private shuttle service where you can choose your own adventure, schedule and destination throughout Kosciuszko National Park. We can even schedule a stop or pick up from one of the local watering holes to quench your thirst.
Note: Shuttles for the TVT are only available when the track OPEN, please check conditions with NSW National Parks.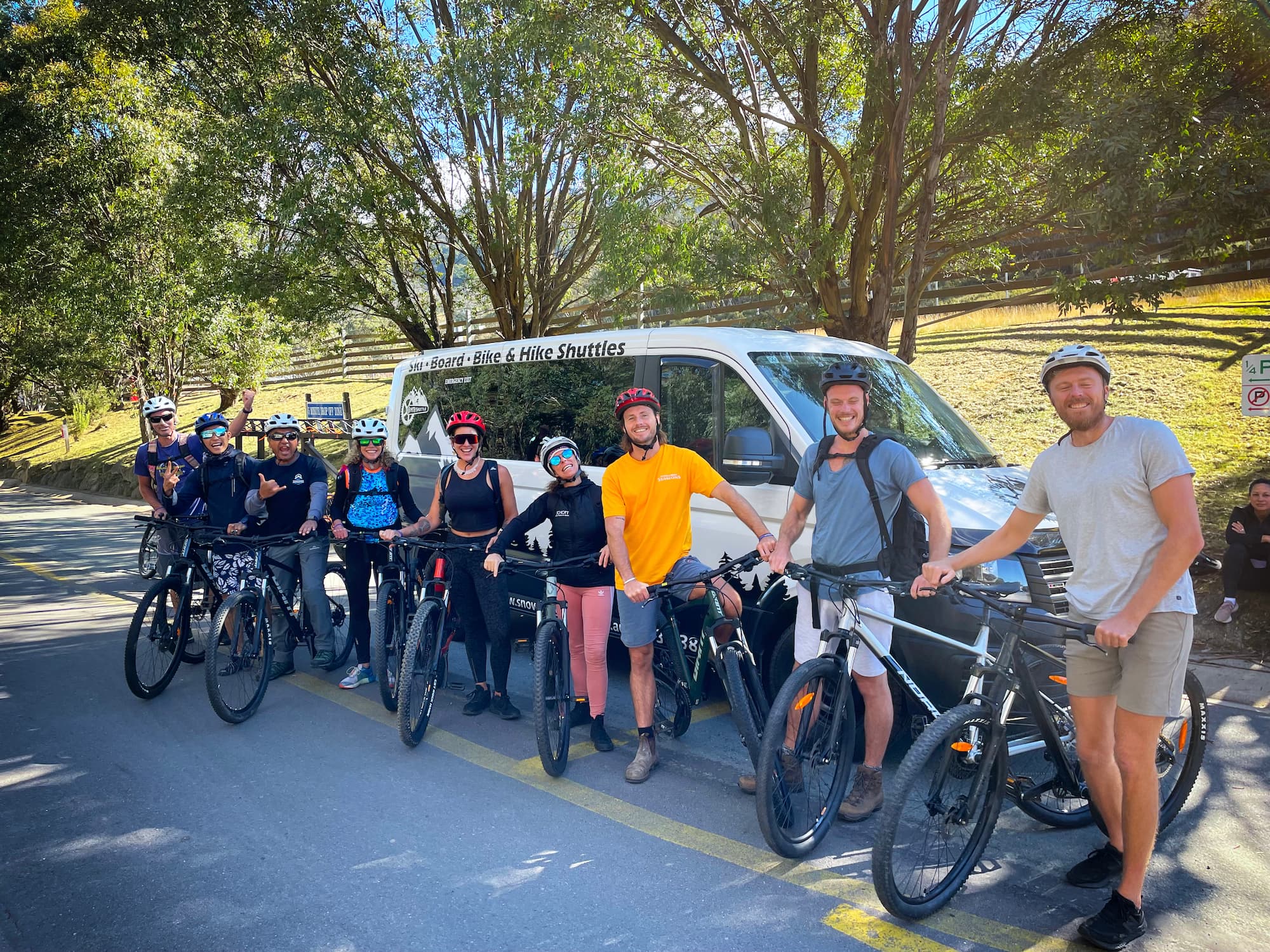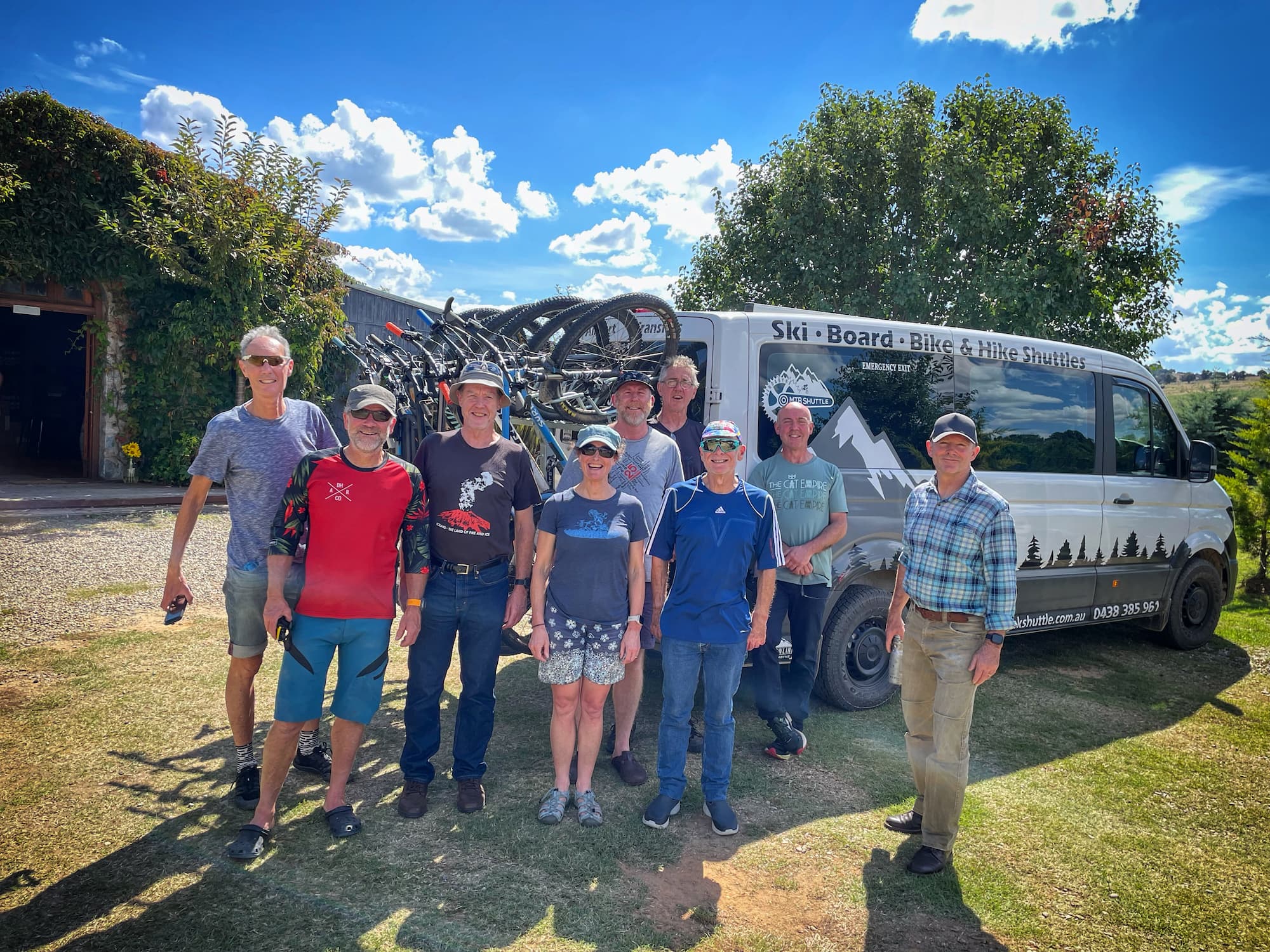 MTB Shuttle prices are from:
 *$50 per rider, includes NP entry from Jindabyne/ Gaden Hatchery up to Thredbo or $30 to Crackenback / Ski Tube. * Minimum 4 riders required or in combination with other riders on the trip UP.
*$35 per rider, includes NP entry from Lake Crackenback Resort/ Ski Tube up to Thredbo (Upper Section). * Minimum 5 riders required or in a combination with other riders on the trip UP.
*$25 per rider from Diggings/ Ngarigo campground within National Park up to Thredbo. * Minimum 6 riders required or in a combination with others.
* Private transfers are available on request any time for individuals and small groups.
Discounts will be offered for group bookings of 6+ Riders with up to 11 bikes using our Shingleback trailer.
We also provide bike transfers to/from Charlotte Pass, Guthega, and the Cascade  Hut Trail by request.
Suitable bikes are usually available for hire from Sacred ride, Jindabyne, Activate in Lake Crackenback resort or from Thredbo resort.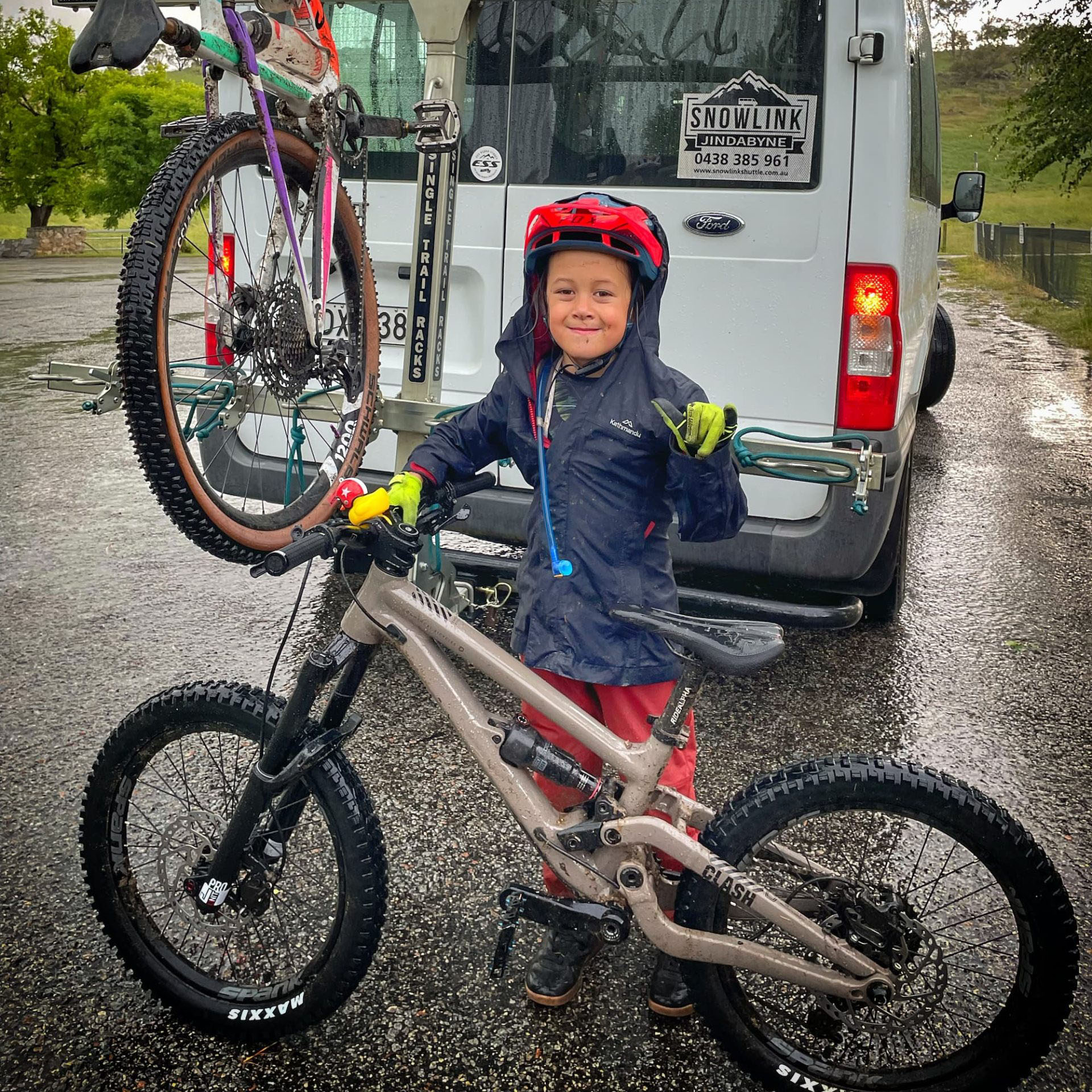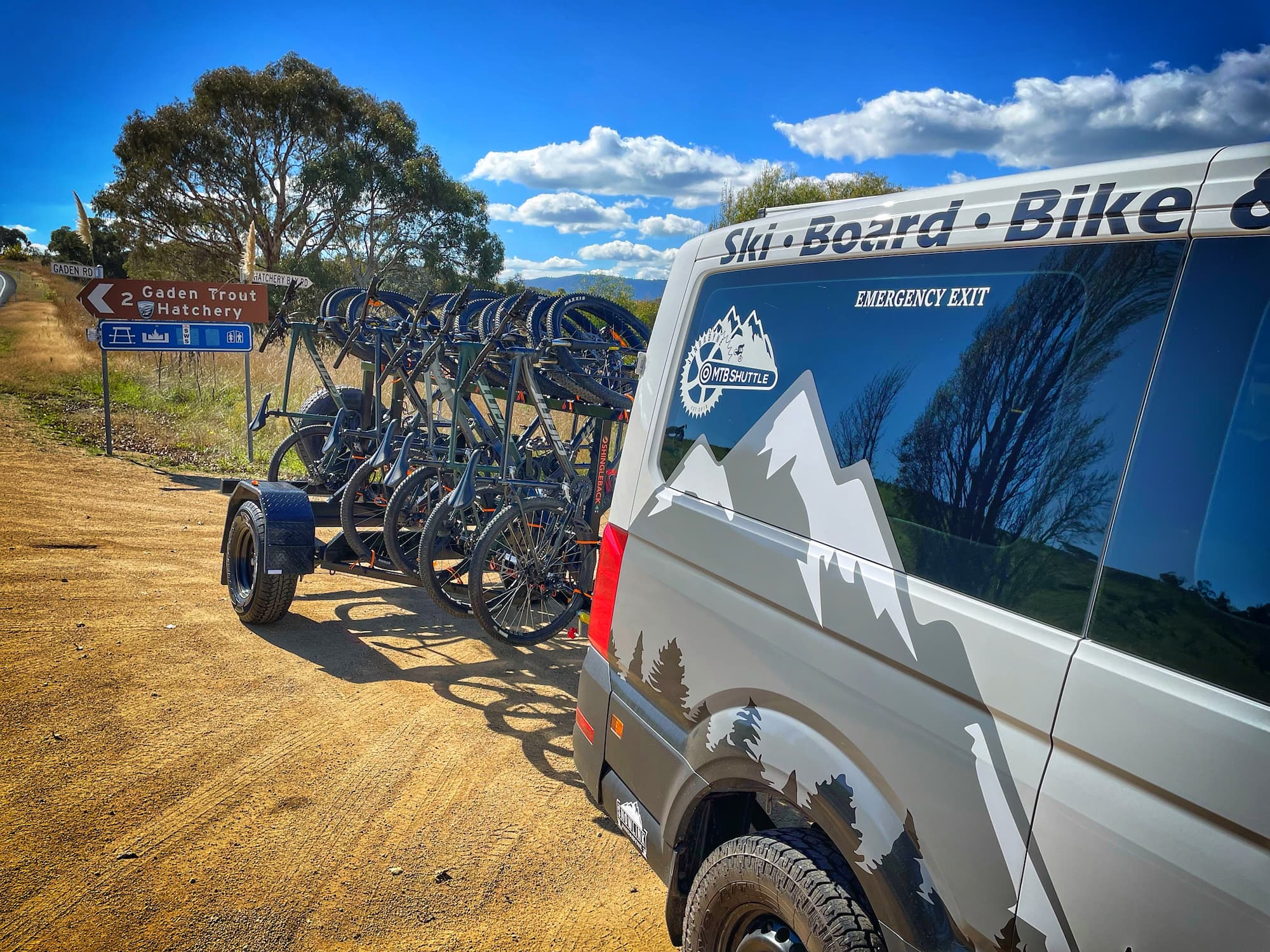 Information about the TVT, Thredbo Valley Track
The TVT is a 35-kilometre shared use 2-way track that follows the river from Thredbo village all the way to Jindabyne town.  The whole track can be ridden in a day or split in two sections. We recommend riders research the track & various sections to ensure suitability depending on their own experience and equipment. Being in Kosciuszko National Park the track is managed by NSW Parks and is subject to closure so we recommend checking the weather & track conditions in advance.
The Upper TVT approximate 17-kilometre section from Thredbo Village to Lake Crackenback is better suited for families & beginners to intermediate riders, take your time to enjoy the scenery on this flow style trail. Enjoy a swim in the river or some lunch and refreshments before we shuttle you & your bikes back UP to Thredbo. We recommend allowing 2-3 hours to enjoy the upper section.
The Lower TVT approximate 18-kilometre section is described as "technical" having more climbs with some tight switch backs and high berms therefore better suited for more advanced riders. The 1st access point for pick ups will be from the car park at the Gaden Hatchery or continue along the Hatchery Bay trail into Jindabyne & we can shuttle you back UP at the end of the ride. We recommend allowing for 4-6 hours to complete the whole track for experienced riders.
Take plenty of water and remember to wear a helmet and take adequate gear including a basic bike repair and first aid kit. Phone reception is available along most of the track.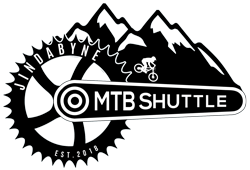 For locals & visitors we offer private shuttles for small groups providing a unique & professional experience. Customers can choose their own schedule from the variety of trails in the region including Perisher, Charlotte Pass, Guthega, Mt. Gladstone in Cooma, Bungarra Alpine Centre trails & pump track or the Tyrolean trail network as well as the amazing network of trails on offer at Thredbo mountain bike park where you can experience the Kosciuszko flow trail or for the more daring the Cannonball downhill or just enjoy the scenic Thredbo Valley Track (TVT).
So, relax & let us take out all the leg work to the top.
Come ride with Jindabyne MTB Shuttle!
For interstate and overseas riders coming to experience the 3 A'S ( Alpine, Adrenaline, Altitude) in Thredbo Mountain Bike Park taking on the downhill challenge or competing in the Cannonball Mountain Bike Festival we also provide hassle free, efficient and reliable private charter transport service including bikes in one of our comfortable fleet.
MTB Shuttle Gaden Trout Hatchery
MTB Shuttle Lake Crackenback Resort
Private group MTB Shuttles
MTB Transport Canberra Airport, Cooma Airport, Sydney Airport
Thredbo Mountain bike adventure day.
Experience the thrill and high-altitude excitement of riding Thredbo Mountain bike park in the New South Wales Snowy Mountains and Kosciuszko National Park.
Thredbo MTB Park is Australia's premier mountain bike destination with world class trails offering something for every level of rider and less than a 3-hour journey from Canberra's CBD.
Adrenalin junkies can head up on the Kossie express chairlift for the Cannonball downhill, Kosciuszko flow trail or the all-mountain trail for 560 vertical metres of white-knuckle riding. Also, on offer is fast flowing pump & cross-country tracks and skills parks.
If fast paced downhill MTB is not your thing, experience riding the easy going and beautiful Thredbo Valley Trail (TVT). An exciting 19-kilometre ride from Thredbo that follows the Thredbo River.
Alternatively, e-bikes can be hired and a ride from Charlotte Pass to Mt Kosciuszko can be arranged.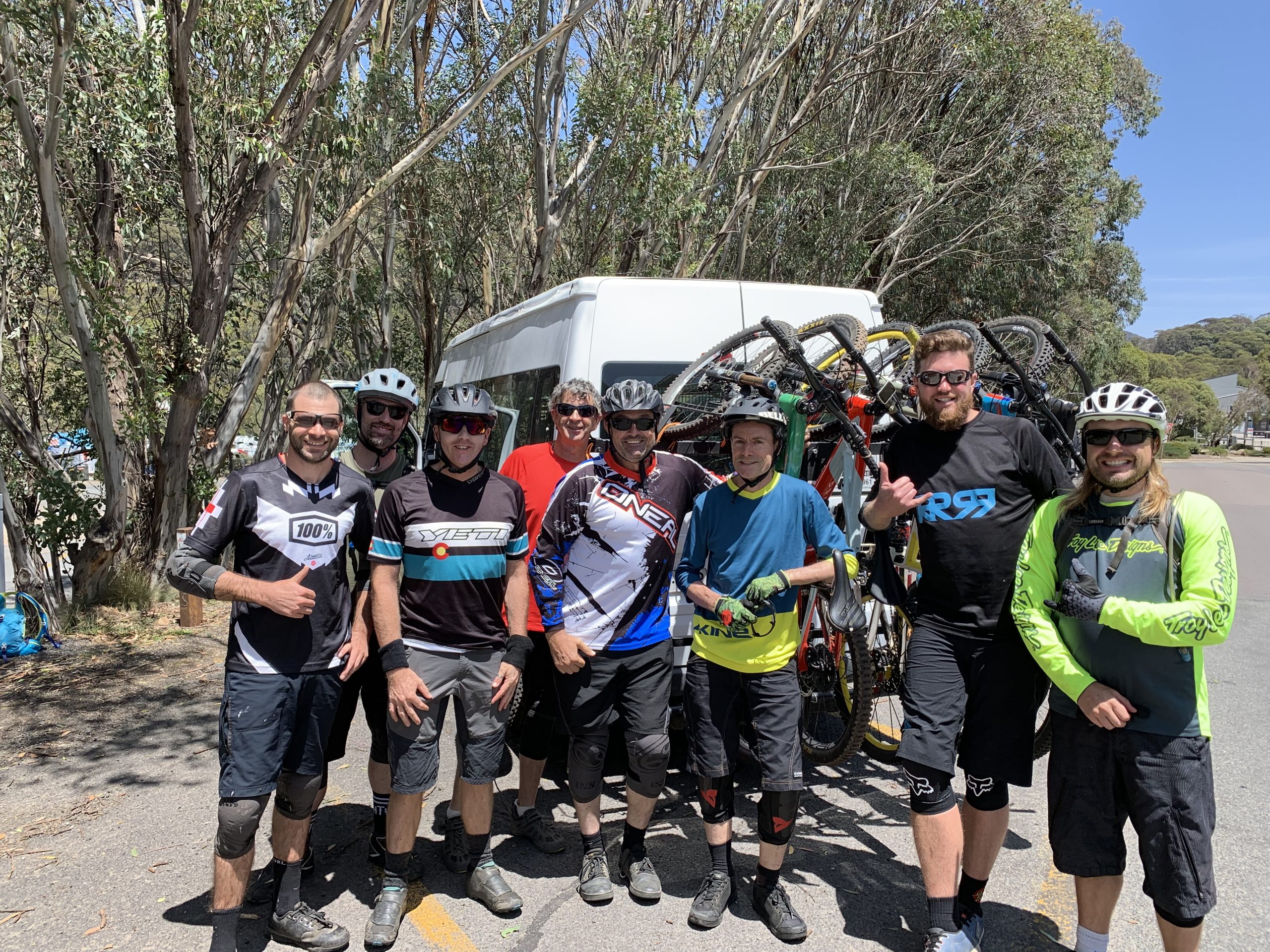 How can I make a booking with Snowlink MTB Shuttles?
Please call or text us anytime on 0438 385 961 or complete the booking form and we will get back to you.
Where does the MTB shuttle pick us up from?
We can pick you up from selected locations in Jindabyne, Gaden Trout Hatchery, Lake Crackenback, Ski Tube and Thredbo.
Where does the MTB Shuttle drop us off?
We can drop you off at Ski Tube car park at the entry exit point on the way up to Thredbo Alpine Village. We drop riders off at the start of the Thredbo Valley Track (TVT). 
What times & days does the Snowlink MTB shuttle operate?
Generally pickups from Jindabyne or the Trout Hatchery are from 8am- 5pm and from Ski Tube on the way UP. We operate 7 days per week based on demand.  Times may vary subject to bookings and can be tailored to your requirements.
How much does the Snowlink MTB Shuttle cost?
  Fares are from:-
*$50 per rider from Jindabyne or Trout Hatchery to Thredbo
*$30 per rider from Jindabyne or Trout Hatchery to Crackenback
*$35 per rider from Crackenback / Ski Tube to Thredbo
*$25 per rider from Diggings or Ngarigo campgrounds to Thredbo
*$30 per rider Crackenback to Jindabyne 
* Subject to minimum number of riders required
How many passengers does Snowlink MTB operate for?
We can provide transport for 1-11 riders per vehicle.
How can I pay for a booking with Snowlink MTB?
We accept payments via Visa or Mastercard before departure. Call us on 0418 385 961 and we'll process your card details a receipt will be provided. (Card Fees apply)
We also accept payment via EFT bank transfer up to 3 days before travel, details will be provided with a booking confirmation.
Payments can be made upon collection with prior agreement. We don't carry change on the bus!
What do I do if I have to cancel a booking with Snowlink MTB?
 – Once a booking has been confirmed a full refund will be available in the event that the track ( TVT ) is closed by NSW National Parks. Refunds are not available for change of mind or mild weather conditions.
– If you are late or fail to show up at the agreed time / location a refund will not be provided.