Are you ready for a High-Altitude Adventure?
Mount Kosciuszko is Australia's highest mountain and one of the world's Seven Summits. Discovered and first climbed in 1840 by Polish explorer Sir Paul Edmond Strzelecki.
Peaking at 2228 meters above sea level "Kozzie" is located in the picturesque New South Wales Snowy Mountains and beautiful Kosciuszko National Park.
The Kosciuszko walk is described as a grade 3 or moderate 13 kilometre return grated boardwalk from Eagles Nest overlooking Thredbo village. The clean & fresh mountain air & cooler alpine climate makes the walk achievable for everyone young & old alike. Allow 5 hours for the return walk with time to appreciate the natural beauty & maybe a picnic lunch along the way.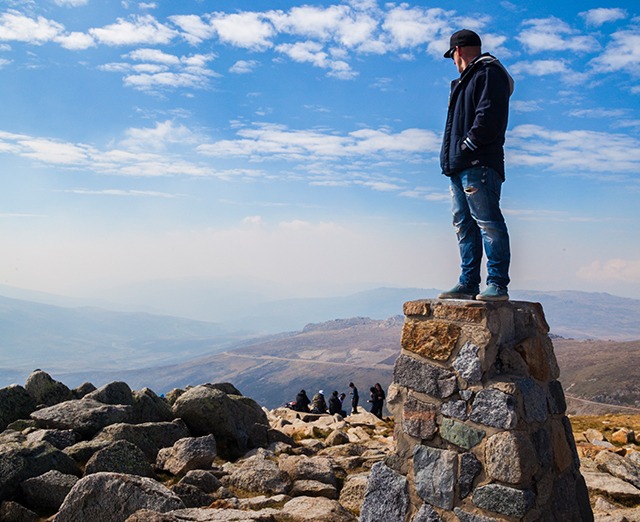 Let Snowlink do the driving
The easiest way to access the well-maintained trail to the summit is from Thredbo Alpine village. Walkers can experience the thrill of taking Thredbo's year-round Kosciuszko Express chair ride up to Eagles Nest. From Eagles Nest enjoy a coffee whilst taking in the views of Thredbo and the Monaro before setting off on the easy 6.5 kilometre walk to the top of Australia. Once at the summit you'll be rewarded with breathtaking 360-degree views of the main range out to the Victorian High Country, you can still expect to see some patches of snow and during Spring and Summer the wildflowers bloom on the ranges.
Let Snowlink do the driving from Canberra to the Snowy Mountains for a day of walking and sight seeing in the Kosciuszko National Park.
Snowlink will arrange for a Private Transfer vehicle to collect you from your accommodation in Canberra before 8.30am. Sit back and relax for the 3-hour journey to THREDBO VILLAGE, we are happy to stop along the way for a refreshment break in
Cooma
. Catch the chair ride up from Thredbo by midday and maybe have some lunch at Eagles nest before your walk. Our driver will be back in Thredbo by 5pm to have you safely back at your accommodation by 8pm.
After a full day of high-altitude adventure, you'll sleep well.
Transportation from Canberra to Thredbo return from $990 + Gst
National park entry fees into Kosciuszko National Park apply.